The Mountain Ale and Lager Tasters Present:
The Blue Ridge Brew-Off Homebrew Competition Has Been Postponed Until Spring of 2023.
---
The info below is for informational purposes only. Please check back for updates on the competition date and other pertinent info as it becomes available. Thank You!
For over 10 years, the Mountain Ale and Lager Tasters (MALT) Blue Ridge Brew Off (BRBO) is one of the most fun and largest beer judging competitions in the region. The BRBO judges taste nearly 500 entries every year and award ribbons in 28 style categories of beer, mead and cider.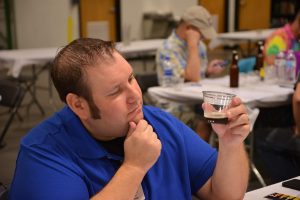 We are honored to be a qualifying event for the prestigious North American Master Championship of Amateur Brewing (MCAB). The BRBO is also a qualifying event for the SHA Brewer of the Year presented by the Southeastern Homebrewers Association.
Each year, MALT presents the George Fix Award in memory of esteemed MALT member, Dr. George Fix for the highest scoring entry from a homebrewer who has been brewing for one year or less.
The Blue Ridge Brew Off is a sanctioned Beer Judge Certification Program (BJCP) event. All 23 BJCP beer style categories, 3 mead style categories, 2 cider style categories plus a Best Of Show judging will take place. For complete information about submitting entries to the BRBO, visit: BlueRidgeBrewOff.com.
If you are interested in volunteering as a judge, steward, cook, or caterer, please email any questions to <MALTAsheville@gmail.com> or check out our BRBO Volunteer page.
To see winners from past competitions, visit our BRBO Winners page.